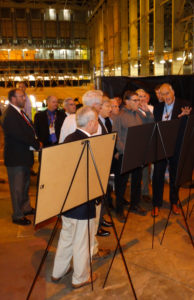 On September 29, 2017, U.S. Secretary of Energy Rick Perry toured the American Centrifuge Plant facilities in Piketon, Ohio, to learn about Centrus' demonstration of advanced U.S. uranium enrichment technology at the site and the site's potential to host a plant for national security purposes.
Accompanying Perry were U.S. Senator Rob Portman, U.S Representatives Bill Johnson and Brad Wenstrup, along with Centrus President and CEO Dan Poneman and Vice President of Field Operations Larry Cutlip.
During the tour, Perry saw the recently decommissioned Demonstration Cascade, which successfully operated for three years to prove the readiness of Centrus' AC100 centrifuge machine. The site could be utilized in the future to reestablish America's domestic uranium enrichment capability for national security and other purposes.
Over the long term, the United States will need to deploy a domestic enrichment technology at industrial scale for many reasons – including strengthening energy security, advancing U.S. nonproliferation goals, providing fuel for the long-term needs of the nuclear Navy, and ensuring a supply of tritium which is needed to maintain the effectiveness of America's nuclear deterrent.
Centrus' American Centrifuge technology is the only technology available now to restore this critical capability.  An October 2015 report by the U.S. Department of Energy found that Centrus' AC100 centrifuge is the "most technically advanced and lowest risk option" to meet the nation's long-term national security needs.